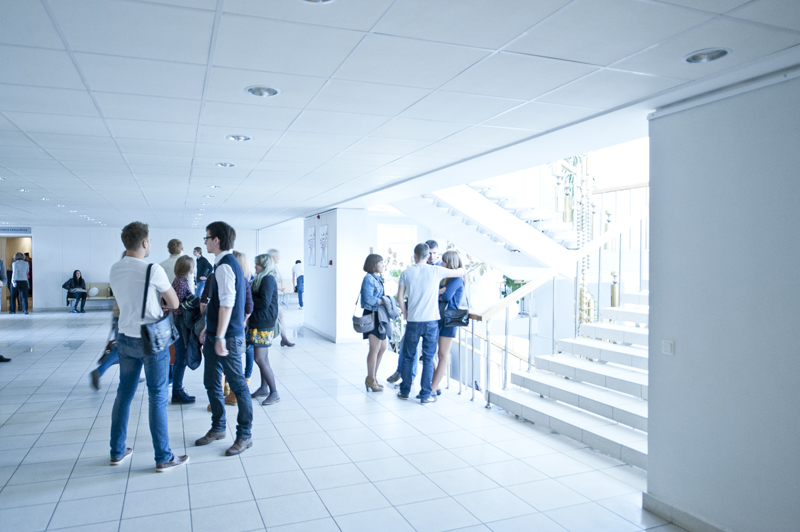 Dear Erasmus student, we are pleased that you have chosen your study period abroad at European Humanities University!
In Lithuania, sometimes known as the crossroads of Europe, European Humanities University is well-positioned to serve as a gateway between the East and the West—one that promotes mutual understanding and cooperation between peoples. EHU is an ideal place for those from the West interested in improving their Russian language skills while experiencing Belarusian and Lithuanian culture as well as those from the East who are looking for connections to colleagues in the region and Europe as a whole, and a taste of what a Western liberal arts education has to offer.
Acceptance
Interested in studies at EHU?
If you wish to study at European Humanities University under Erasmus+ programme or other mobility exchange program (i.e. Campus Europae) firstly check with your home university:
whether it has an agreement with European Humanities University;
ask your home coordinator about the nomination selection process;
read information on website about further application process at European Humanities University.
Application deadlines
| Date | Deadline |
| --- | --- |
| June 1 | for the fall semester or full academic year |
| December 1 | for the spring semester |
Nomination and online application
Nomination – your home coordinator has to nominate you by sending the European Humanities University a letter.
Information e-mail – after the nomination is submitted you will receive a link to an application package and other relevant pre-arrival information which is also available on our website.
Approval – after all your application documents are submitted EHU Mobility Coordinator will send you the learning agreement for approval to the department.
Acceptance letter – after your learning agreement is approved and signed by departmental coordinators of both institutions we will send you an acceptance letter.
Application documents
Application form, you can download the EHU form from here. Fill in the form, sign it, scan and sent it with other documents.
Learning Agreement. Use preferably your university's form, if required, or you can download the EHU form from here. Write into the LA the courses you would like to attend during your Erasmus stay and discuss your choice with the departmental coordinator at your home university. You can choose from the Course Catalogue. Get your LA signed by your coordinators at your home university.
Transcript of Records. Attach the copy of your studies' certificate/transcript issued by your home institution.
Letter of nomination from a home institution sent by e-mail.
Application for accommodation, if a student wishes to stay in the dormitory. Filling in the application form means a request to reserve a place in a dorm for you. After receiving an acceptance letter, you have to contact EHU Mobility Unit for contracting). You can download the EHU Application form from here.
Passport or ID copy.
Scanned application documents should be sent to the mail box of Academic Development Unit: international@ehu.lt.
Acceptance letter
As soon as your LA is approved we will send it to you by email together with the acceptance letter. Visa students will additionally receive an original confirmation letter for applying the visa by post.