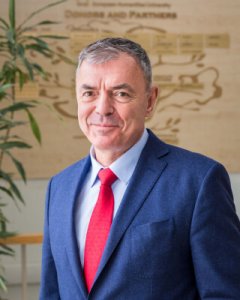 Prof. Sergei Ignatov is an internationally acclaimed Egyptologist, author of the books "Morphology of Classical Egypt", "The Wisdom of Ancient Egyptians", "Egypt of the Pharaohs", "Papyrus does not grow on a rock", "The Body of God", as well as more than 40 other academic publications, dedicated to problematics of linguistics, history and religion of Ancient Egypt.
In 2009-2013 Prof. Ignatov served as Bulgaria's Minister of Education, Youth and Science in the Boyko Borisov's Government. While serving as Minister of Education, he implemented a number of notable reforms, aiming at broadening of the university autonomy and introduction of nation-wide differentiated funding of higher education. Earlier in 2002-2009 Prof. Ignatov served as Rector of Bulgaria's leading private University – the New Bulgarian University.
Prof. Ignatov started his academic career as lecturer at the University of Sofia St. Kliment Ohridski. In late 90's he joined the academic management of the New Bulgarian University and served as Dean of the Undergraduate School. Before coming to EHU he chaired the Bulgarian Institute of Egyptology.
Prof. Ignatov holds a PhD in Egyptology from the St. Petersburg State University. During his academic career he held a fellowship at the All Souls College in the University of Oxford. Prof. Ignatov speaks Bulgarian, Russian, English, French, and also teaches Ancient Egyptian (Coptic), Assyro-Babylonian (Akkadian) and Ancient Greek.
Prof. Sergei Ignatov serves as EHU Rector since March 1, 2018