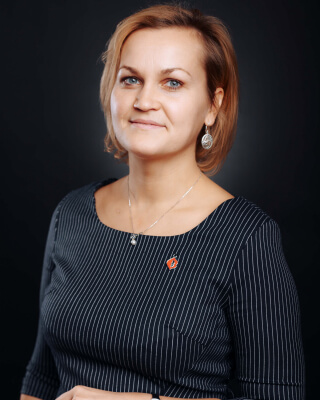 Nadzeya Charapan
Lecturer
Academic Department of Humanities and Arts
Education
Teaching areas
Cultural heritage, Experiential Marketing, Tourism, E-learning
Research interests
Tourism Economics, Introduction to speciality, Tourism terminology in English, Marketing for tourism, Marketing of Cultural Heritage of Tourist Destinations
Publications
Charapan N. Revitalization of cultural heritage by means of literary tourism (case study of Vilnius). YOCOCU conference proceedings 2014, Cambridge Scholars Publishing, UK: 2015.
Charapan N. Ways to improve the quality of communication in a distance learning course. Сборник научных статей: Развитие дистанционного обучения: проблемы и перспективы/ Г.Я. Миненков, А.Е. Пупцев (отв. ред): EHU, Vilnius 2014, стр.230-244. ISBN 978-9955-773-81-8..
Charapan N. Experiential marketing approach to destination branding focused on cultural heritage. ICCMT 2013  Conference proceedings: Institut za socio-kulturna antropologija na Makedonija i Makedoncite, Skopje, 2013. pp.72-80. ISBN: 978-608-65643-0-8.
Чарапан Н. Перспектывы выкарыстання турыстычнага патэнцыялу ракi Вiлiя-Нерыс у дыялогу культур Беларусi i Лiтвы. Другiя Тышкевiцкiя чытаннi (Лагойск 14 кастрычнiка 2009): матэрыялы чыт./ рэдактар Смолiк А.I.- Мн.: Бел. Дзярж. Унiверсытэт  Культуры, 2009.- стр. 80-85. ISBN 978-985-6798-66-8.