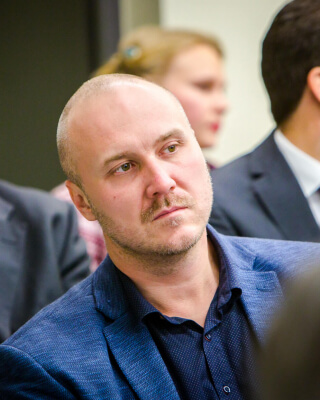 Aliaksei Makhnach
Head
Associate Professor
Academic Department of Humanities and Arts
Education
PhD in History
Belarusian State University
Teaching areas
Second Year Seminar: Introduction to Social Sciences, Hermeneutics Seminar: Understanding and Creativity
Research interests
Archaeology, Cultural Anthropology, Liberal Arts
Publications
1. Makhnach A. Belarus in the scientific and pedagogical work of Kazimir Maszynsky // Przeglad Wschodnioeurapejski. 3 2012: 73-84
2. Сяргей Харэўскі, Аляксей Махнач. Кропкі незвароту, або пра які Менск можна марыць?// ARCHE» «Архітэктурная спадчына: гісторыя руйнаванняў і рэканструкцый», 2014 г. № 4 c.79-97 (Non-return points or of what Minsk is it possible to dream?);
3. Махнач А.І., Махоўская І.С., Навагродскі Т.А., Церашковіч П.У., Чаквін І.У і інш. Этналогія Беларусі: традыцыйная культура насельніцтва ў гістарычнай перспектыве (Ethnology of Belarus: traditional culture in historical perspective)// Вучэбна-метадычны дапаможнік Мн. БДУ, 2009. – 335 с.