Extracurricular Activities
Student life in Vilnius offers a wide variety of extracurricular activities such as concerts, avenues for cultural and artistic expression, sports events, guided tours, workshops, training seminars, opportunities to meet interesting people, and many other activities and chances for civic activism.
EHU regularly hosts popular Belarusian performers, including artists whose performances are banned in Belarus, like the band Lyapis Trubetskoy.
In addition to a vibrant city life, EHU offers a number of opportunities for students to implement their own ideas or join existing student initiatives.
Short-term student projects
Three times a year, EHU's Student Service notifies students of calls for student projects in culture, entertainment, education, and sports. Bachelor and master degree students as well as high and low residence students may submit applications for university funding. The student calls are announced on Moodle and EHU's website. Click here for examples of implemented projects (in Russian).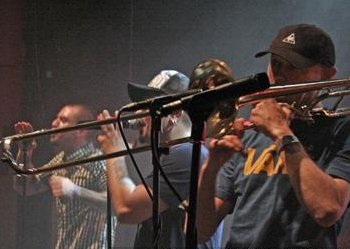 Student clubs and ongoing initiatives
The EHU Photoblog promotes self-expression through photography by organizing photo exhibitions at EHU and in Vilnius galleries.
"ActionGroup" is a student-led group that organizes sports and entertainment events, including the all-campus "Spartakiad" sports competition, student initiations, and other campus celebrations. See examples of their events here.
The EHU Times is an independent newspaper published by media students and supervised by their lecturers. The contents of the newspaper do not necessarily reflect EHU's official position.
The academic journal Jus Gentium is published by EHU law students and reports on important political and legal issues and developments both in Belarus and abroad.
The Travel Club is an initiative of cultural heritage students who use their Facebook page as a platform for sharing information on such subjects as tours and tourguiding, museum studies, tourism marketing and management, area studies, theory and methods of preservation and interpretation of cultural heritage, and similar tourism- and cultural heritage-related subjects.
The Intellectual Club "What? Where? When? EHU" is a team of students that competes in intellectual club tournaments.
Other opportunites for involvement
EHU's Student Service organizes a number of activities for students, as do the following organizations:
Youth Association "StudAlliance" is a non-profit Belarusian civic organization in Lithuania aimed at representing Belarus in the Lithuanian public and cultural sphere; assisting young people in organizing civic and cultural events; and implementing joint Belarusian-Lithuanian cultural projects. StudAlliance promotes international cooperation and carries out informal and civic educational activities.
EHU's LitPro Intercultural Project is implemented by EHU in partnership with Vilnius University's Department of Lithuanian Studies and with the financial support of Lithuania's Ministry of Foreign Affairs. LitPro's main activities include courses in Lithuanian language and culture for EHU students; linguistic summer schools for faculty, administrative staff, and low residence students; art academies devoted to creative interpretation of Lithuanian and Belarusian cultures; workshops and meetings with famous Lithuanian cultural and civic activists, artists, researchers, politicians, and other leaders; film screenings; and visual culture festivals. The "Knopka vyzova" festival of visual culture is an example of an event promoting intercultural communication.