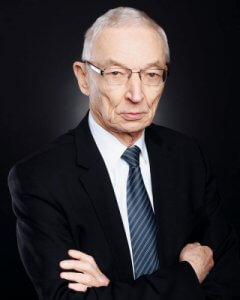 A respected scholar of German philosophy, Professor Anatoli Mikhailov sought to create an alternative to the system of education that his newly-independent country had inherited from the Soviet Union.
Inspired by the model of a Western liberal arts university, Prof. Mikhailov founded EHU in 1992. Within a decade, EHU had become widely-recognized as one of the best universities in Belarus.
In the run-up to EHU's forced closure, Professor Mikhailov and his staff came under intense pressure to conform to the demands of Belarus's increasingly authoritarian government. The government was bent on extending control over higher education in the country. Refusing to succumb to such pressure, Professor Mikhailov left Belarus as authorities shut down EHU in Minsk.
With the remarkable support of donors in North America and Europe, Professor Mikhailov led the reestablishment of EHU in Vilnius, capital of neighboring Lithuania, and was reappointed rector by EHU's international Governing Board. That the university has survived repression, forced closure, and exile is a tribute to his extraordinary leadership and perseverence.
Professor Mikhailov received his PhD in Philosophy at the University of Jena. He is a member of the European Academy of Sciences and Arts as well as the  Belarusian National Academy of Sciences and other educational organizations. He is also a member of the International Council at the International Centre for Democratic Transition. In 2003, Professor Mikhailov was given the rank of Officer in France's Order of Academic Palms and in 2004 he received Germany's prestigious Goethe Medal.
Starting from October 2014, Founding Rector Prof. Anatoli Mikhailov holds the office of EHU President.